CHARLOTTESVILLE, Va. — In an homage to writer George Orwell (Jun. 25, 1903-Jan. 21, 1950), who depicted the ominous rise of ubiquitous technology, fascism and totalitarianism in his chilling novel 1984, John W. Whitehead has penned the first novel in a dystopian trilogy, The Erik Blair Diaries: Battlefield of the Dead (Waterside Productions, 2021).
ABOUT THE ERIK BLAIR DIARIES by John W. Whitehead: The dystopian future that George Orwell predicted for 1984 has finally arrived, 100 years late and ten times as brutal. To save all that he loves, Orwell will have to travel between his future self—Erik Blair, Orwell's descendant and unwitting heir to his legacy—and the past. As for Erik Blair, his life plan isn't overly complicated: Avoid trouble. Avoid pain. And get from one day to the next without attracting the "wrong" kind of attention, which really equates to any kind of attention when the government and its robotic thugs are involved. In this post-apocalyptic world where everyone marches to the beat of the same drummer, Blair—a young man earmarked for a future of compliance and servitude—isn't volunteering to be anyone's hero. Unfortunately, life doesn't always go according to plan. The Erik Blair Diaries: Battlefield of the Dead is available in paperback and digital formats. Review copies are available to media upon request.
"We have arrived, way ahead of schedule, into the dystopian future dreamed up by not only Orwell, but also such fiction writers as Aldous Huxley, Margaret Atwood and Philip K. Dick. Our world is characterized by widespread surveillance, behavior prediction technologies, data mining, fusion centers, driverless cars, voice-controlled homes, facial recognition systems, cybugs and drones, and predictive policing (pre-crime) aimed at capturing would-be criminals before they can do any damage. What once seemed futuristic no longer occupies the realm of science fiction," said constitutional attorney John W. Whitehead, president of The Rutherford Institute and author of Battlefield America: The War on the American People. "As a constitutional attorney, I have spent my life working to stave off the totalitarian future that Orwell envisioned. As a writer—a dreamer—and a lifelong freedom fighter, this fictional series is my attempt to help my fellow travelers navigate a world that is no longer friendly to freedom."
One of the nation's most vocal and involved civil liberties attorneys, John W. Whitehead is the president of The Rutherford Institute. The author of the best-selling Battlefield America: The War on the American People and A Government of Wolves: The Emerging American Police State, Whitehead also writes a syndicated weekly column, which focuses on tyranny, injustice, the government's use of emerging technologies to oppress the population, resistance, activism, and the tendency of power to corrupt. The Rutherford Institute, a nonprofit civil liberties organization, provides legal assistance at no charge to individuals whose constitutional rights have been threatened or violated and educates the public on a wide spectrum of issues affecting their freedoms.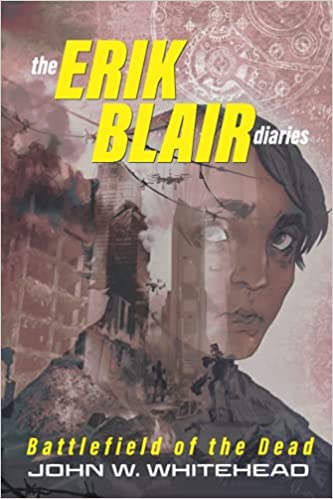 Article posted with permission from John Whitehead
Become an insider!
Sign up to get breaking alerts from Sons of Liberty Media.