Municipalities across the country have backed off of COVID-19 vaccine orders as there are not enough people lining up to get them. Some cities who couldn't keep up with demand early on in the campaign have shuttered vaccination sites for lack of customers. Though the CDC estimates that nearly half of all Americans have received at least one dose, tens of millions of Americans appear to be opting out of the second shot.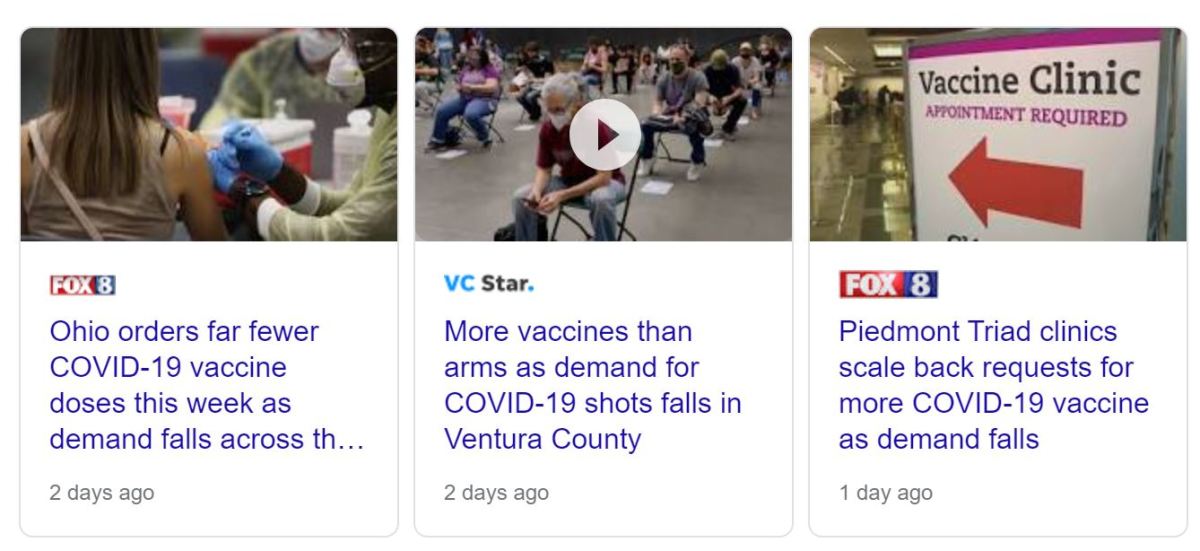 As a result in the drop in demand, states are making moves to entice those who may be on the fence about getting that jab. In Ohio, the government is now promising millions of dollars in prizes if you just roll up that sleeve.
Ohio Gov. Mike DeWine outlined a plan Tuesday night as he offered five $1 million prizes to adults who have been vaccinated.
"I know that some may say, 'DeWine, you're crazy! This million-dollar drawing idea of yours is a waste of money.' But truly, the real waste at this point in the pandemic — when the vaccine is readily available to anyone who wants it — is a life lost to COVID-19."
The money to pay out the million dollar vaccination bribes will come from the COVID-19 relief funds received from the federal relief package. This package is for adults 18-years-old and up. For children — who, according to the CDC are largely entirely unaffected by the virus — the state has other bribes in place.
On Monday, the FDA approved the Pfizer vaccine for kids ages 12 to 15 — paving the way for teens to begin getting the shots as early as this week. Wasting no time, Gov. DeWine began promising children, ages 12-17 a chance to when a 4-year free ride to college, including tuition, room and board, and books.
The bribery scheme amid plummeting demand is not unique to Ohio either.
As of May 13, there is no specific state lottery designed for COVID-19, but the Kentucky Lottery is offering free Cash Ball lottery tickets to Kentucky residents who get vaccinated.
In West Virginia, residents ages 16 to 35 would be eligible to receive a $100 savings bond if they get vaccinated.
In New Jersey, residents 21 and up can get a free beer when they get vaccinated through it's "shot and a beer" program.
Maine is offering free hunting or fishing licenses, LL Bean gift cards or other prizes to residents who get their vaccines by Memorial Day.
Though the UCLA COVID-19 Health and Politics Project found that people said they would be more willing to be vaccinated if offered cash payments of $25 to $100, there is no evidence to show lotteries and raffles have any such effect on increasing the vaccination rates.
Perhaps if there weren't a record number of deaths reported to the CDC's Vaccine Adverse Event Reporting System (VAERS) following COVID vaccination, people may be more inclined to get the shot. But this is the reality.
As TFTP reported this week, according to the CDC, from December 14, 2020, through May 5, 2021, over 245 million doses of COVID-19 vaccines were administered in the United States from During this time, VAERS received 4,178 reports of death (0.0017%) among people who received a COVID-19 vaccine. CDC and FDA physicians review each case report of death as soon as notified and CDC requests medical records to further assess reports.
There have been over 157,000 adverse events reported, and of those adverse reactions, according to the CDC, 16,014 consist of serious injuries, as well as the deaths.
What's more, it is a matter of fact that thousands of people are contracting COVID after they get the vaccine.
These factors tend to matter to people when they are rolling up their sleeves, which is likely part of the reason for the decline in vaccination rates. So, the government is rolling out the incentives.
Incentives would not be such an unethical practice if this were not an experimental vaccine. And while the term "experimental vaccine" may sound like something coming from a tinfoil hat wearing conspiracy theorist, it is 100% accurate.
Because the current Moderna, Pfizer, and J&J vaccines have been only authorized by the FDA under Emergency Use Authorization (EUA), the safety and effectiveness data are still being collected. This means the current mass vaccination program is an experiment in an on-going study in which researchers may still find small effect-size side effects.
It is a fact that vaccines that receive EUA are considered experimental until the FDA formally approves it as it is entirely possible that a rare side effect will be found after mass vaccination allows a longer term of observation on a larger number of people.
Therefore, it can be argued that the current bribery push behind the mass vaccination program is a medical ethics violation. According to the 1947 Nuremberg Code:
The voluntary consent of the human subject is absolutely essential. This means that the person involved should have legal capacity to give consent;
should be so situated as to be able to exercise free power of choice, without the intervention of any element of force, fraud, deceit, duress, overreaching,
or other ulterior form of constraint or coercion; and should have sufficient knowledge and comprehension of the elements of the subject matter involved
as to enable him to make an understanding and enlightened decision. This latter element requires that before the acceptance of an affirmative decision
by the experimental subject there should be made known to him the nature, duration, and purpose of the experiment; the method and means by which it is
to be conducted; all inconveniences and hazards reasonably to be expected; and the effects upon his health or person which may possibly come from his
participation in the experiment.
Can it not be argued that offering million dollar cash prizes for participation in a massive medical experiment is undue influence to coerce an individual into a procedure he or she may not have entertained previously?
The fact that these vaccines are currently under EUA makes all attempts to mandate them, a direct violation of the Nuremberg Code as the number one premise behind it is that "the voluntary consent of the human subject is absolutely essential."
There is nothing voluntary about vaccine passports, forced vaccinations, or any other form of government coercion methods to increase COVID-19 vaccination rates.
On an ethical stance alone, the very premise of these ideas are based on violations of the Nuremberg Code. Nevertheless, government officials, media, and academia alike, continue to shame, coerce, and threaten those who choose to abstain from the vaccine.
The pinnacle of such tyrannical thinking is evidenced by the nearly-200 year old Merriam-Webster organization who deems the majority of the country "anti-vaxxers."
According to Merriam-Webster's definition of the term anti-vaxxer, this is "a person who opposes vaccination or laws that mandate vaccination."
Over the years, TFTP has never advocated against vaccines and has never pushed an "anti-vaxxer" stance. We have only stood against the government forcing people to undergo medical procedures against their will as this is entirely unethical and a violation of our right to informed consent.
This definition labels approximately 79% of all Americans as anti-vaxxers. As the National Review points out, a Morning Consult poll from this past December indicated that only 21 percent of Americans would support making the coronavirus vaccines mandatory for adults, rendering a shocking 79 percent of the public "anti-vaxxers."
Merriam-Webster's definition, which was added in 2018, would also include a fair number of public health experts and officials, including some at the World Health Organization (WHO), who have warned against mandatory vaccination schemes.
There is an idea which has been and is currently being pushed by the mainstream media and the U.S. Centers for Disease Control that Americans can have their freedom back if they just roll up their sleeves and take the vaccine. This push is being backed by multiple experts who have literally compared it to the "carrot on a string" in order to get more people to be vaccinated.
"It's science based. It's sensible. You can hug your grandkids again. If you've been waiting to get a haircut, see the dentist, you can do that," former CDC Director Tom Frieden told CNN back in March.
The idea that people have refused to hug their children and grandchildren over the fear of contracting the COVID-19 virus is heartbreaking. But even more worrisome is the fact that the CDC thinks it can grant or revoke that "freedom" to folks based on whether or not they take the shot.
When tens of thousands of adverse events, along with over 4,000 deaths are reported after receiving the vaccine, this is significantly statistic data to at least raise a red flag and to proceed with caution which is likely part of the reason why demand is falling for the vaccine. However, the mainstream media, Big Tech, and the government alike, have chosen to double down on pushing the notion that the vaccine is 100% safe and we need it for freedom.
Those who advocate such irresponsible and tyrannical behavior would do well to go back and revisit their history classes as we are slowing moving down a path we will soon be doomed to repeat.
Article posted with permission from Matt Agorist
Become an insider!
Sign up to get breaking alerts from Sons of Liberty Media.