On Monday, a Kremlin spokesperson told Ukraine that Russia is ready to halt military operations "in a moment" if Kyiv meets a reasonable list of conditions. Peace would be here in moments, the suffering could be over, and the rebuild could begin if both sides make some very minor concessions.
Russian spokesman Dmitry Peskov said Moscow will end the invasion immediately if Ukraine amends its constitution to ensure it stays neutral and doesn't join NATO, it acknowledges Crimea as Russian territory, and recognizes the separatist republics of Donetsk and Lugbleak ansk as independent states.
"We have also spoken about how they should recognize that Crimea is Russian territory and that they need to recognize that Donetsk and Lugansk are independent states. And that's it. It will stop in a moment," said Peskov, according to Reuters.
So far, Ukraine has chosen not to accept these terms. This is a familiar sentiment that retired Colonel Douglas MacGregor says is selfish and puts even more Ukrainian lives at unnecessary risk.
"I think Zelensky is a puppet, and he is putting huge numbers of his own population at unnecessary risk."
-Ret. US Army colonel Douglas MacGregor pic.twitter.com/MdOmsjKdRx

— Aaron Maté (@aaronjmate) March 5, 2022
Unfortunately for the people of Ukraine, however, there are far too many interests who want this conflict to continue as there are billions of dollars to be made from it, up to and including billions of American tax dollars. So, against the wishes of many, this war will likely continue.
As TFTP reported last month, a survey by The Associated Press-NORC Center for Public Affairs Research, found just 26% of Americans want the US to play a major roll in the Russian/Ukraine conflict. After two years of being fleeced and having our rights trampled here at home, the idea of shelling out more money to fund a conflict on the other side of the world — is not sitting well with many folks.
You can't lock people down for two years, destroy their livelihoods, and force them to take a jab to keep their job, only to turn around and tell them they now need to pay for a senseless war in which the US has inserted itself at the behest of the special interests it serves. Yet that is exactly what's happening — in spite of people not wanting it.
Sure, there is the massive blue checkmark community on Twitter who supports shelling out more taxpayer dollars to fund war, but millions of Americans are struggling too much to even think about the Ukraine.
"They want to send millions of dollars of ours to stop a war that we have nothing to do with," Edward Eller, a 67-year-old retiree told the AP in an interview. "I'm sorry they're involved in a mess, but it's not our problem."
Since that interview, "millions" has progressed to "billions."
Last week, the Biden administration asked Congress for an additional $10 billion — on top of the $1.4 billion we've already given Ukraine this year — to provide aid to Ukrainian government, largely in the form of weapons. Instead of $10 billion, however, because government is government, that amount has jumped to $13.6 billion and it was agreed upon by House and Senate leaders on Wednesday.
200,000 small businesses were wrecked and millions left jobless and alone in the name of public health. Now gas and food prices must surge to protect freedom and stand for Ukraine.

You will own nothing and be happy and if you don't like it, you might be a Russian conspiracist. pic.twitter.com/babkPuhXI7

— Max Blumenthal (@MaxBlumenthal) March 9, 2022
While encouraging Ukraine to take the deal offered by Russia would be far more effective than US tax dollars at ending the suffering and helping Ukrainians, the powers that be are seemingly uninterested in such a move.
It is no surprise that the stock market associated with the military industrial complex is booming as the rest of the market plummets.
What's more, as the politically elite send billions to the other side of the world, 3.7 million children have been pushed into poverty here at home.
According to a recently released Columbia University report, by late January 3.7 million U.S. children were plunged back into poverty, as the government ended the child tax credit.
"We were climbing out of a bad place," RoDena Lloyd, mother of 5, told the Philly Inquirer, "and now we're right back in it."
According to the report, the monthly child poverty rate increased from 12.1 percent in December 2021 to 17 percent in January 2022, the highest rate since the end of 2020.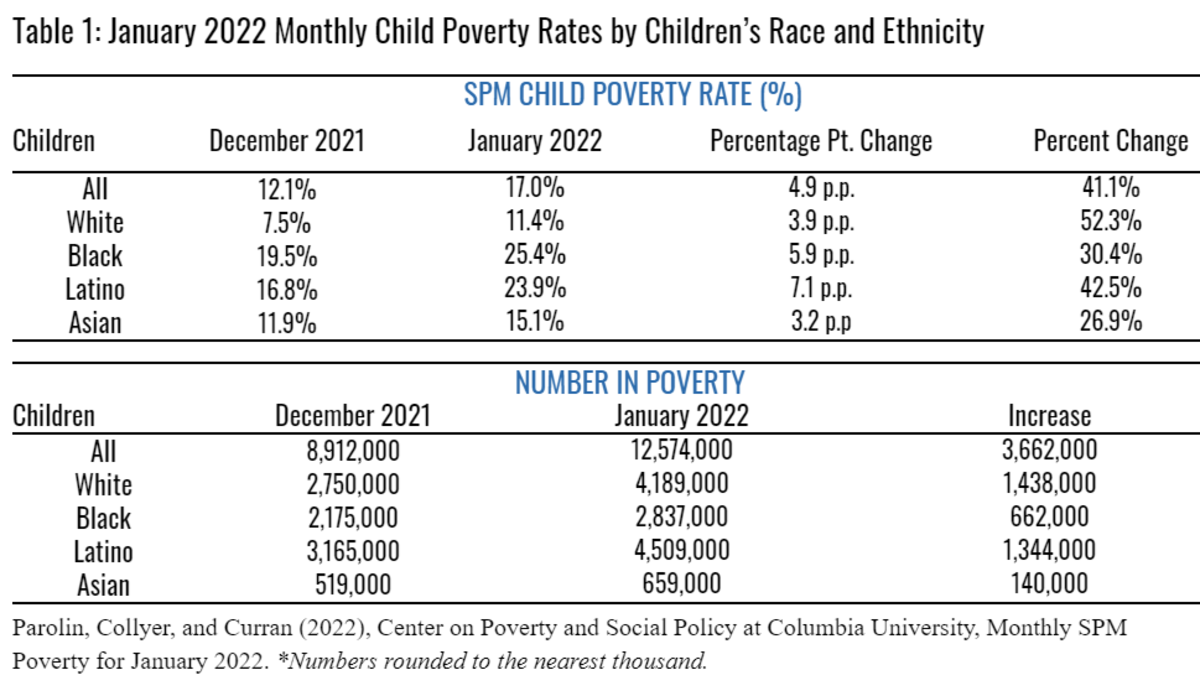 While the child tax credit is a band-aid to a much larger problem, it was helping millions of children yet it is a drop in the bucket on what the US spends on war every year. And now, instead of helping starving American children, the war hawks are asking for more money for war.
"Without question, it's (the military budget) going to have to be bigger than we thought," Democrat warmonger Rep. Adam Smith said at an American Enterprise Institute event. "The Russian invasion of Ukraine fundamentally altered what our national security posture and what our defense posture needs to be. It made it more complicated and it made it more expensive. I don't see much way to argue it."
According to recent estimates, the 'War on Terror' alone, in just the last two decades, and not counting the dark money, has cost taxpayers $21 trillion. All we have to show for these trillions is a million dead brown people, thousands of dead troops, rampant PTSD, and less freedom than ever before.
Clearly, the American government has its priorities laid out and they do not involve actual Americans.
Instead, the folks who have just lost their child tax credits are told by the elite to "suck it up" and be "patriotic" as gas prices soar to record levels. Do your duty America, unquestioningly support war!
Because only rich people with gas guzzler trucks are affected by gas prices.

These people are so dense and detached from reality it's amazing.

No, Bette, high gas prices affect poor people with hybrids or small engines too, dimwit! https://t.co/W4pzMP0Gd6

— Matt Agorist (@MattAgorist) March 5, 2022
Imagine a millionaire telling people who've had their businesses shut down, lost their jobs from mandates, and are struggling to put food on the table, to nut up and get poorer to pay for a war the US helped instigate and will use to further enrich the military industrial complex https://t.co/EXNvLjaFU9

— Matt Agorist (@MattAgorist) March 5, 2022
Article posted with permission from Matt Agorist
Become an insider!
Sign up to get breaking alerts from Sons of Liberty Media.