Alexandria Ocasio-Cortez is the latest Democrat star du jour.
She's a self-described "democratic-socialist" (though in the past she's complained about tax increases), and she's spoken enough for us all to know that she's more than a little ignorant about politics.
Trending: CLIMATE HOAX MELTDOWN: Gallup Poll Proves America's Jaded Outlook
Sadly, she's likely on her way to Congress because she's running for office as a Democrat in a district that will never elect a Republican.
So, it really doesn't matter what she says at this point… she's probably going to Washington, D.C. (even if she starts spouting racist, sexist, and homophobic rhetoric in the middle of her next speech).
The fact that she's likely going to be in Congress doesn't mean we should stop pointing out just how ridiculous her ideas are. In fact, I'd argue we should hold her to an even higher standard now that we know she's on her way to Capitol Hill.
So let's talk about her most recent bit of foolishness, shall we?
In a recent interview on PBS, Ocasio-Cortez argued that the unemployment rate was down "because everyone has two jobs."
Here's the full context:
I think the numbers that you just talked about is part of the problem, right?

Because we look at these figures, and we say, 'Oh, unemployment is low. Everything is fine,' right?

Well, unemployment is low because everyone has two jobs.

Unemployment is low because people are working 60, 70, 80 hours a week and can

barely feed their kids.
And so, I do think that, right now, when we have this no-holds-barred, Wild West hypercapitalism, what that means is profit at any cost.

Capitalism has not always existed in the world, and it will not always exist in the world.

When this country started, we were not a capitalist — we did not operate on a capitalist economy.
Um.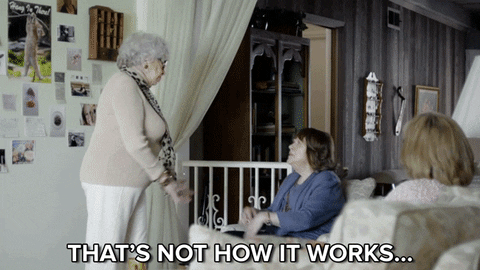 I'll let the folks at Reason explain to you why Ocasio-Cortez seems to be speaking out of her butt on this.
This is wrong for two reasons. First, people working multiple jobs has no distorting effect on the unemployment rate, which is calculated by taking the number of unemployed people and dividing it by the number of people in the labor force. The raw number of jobs being worked by Americans has no bearing on these numbers.

Second, everyone does not have two jobs. As Bloomberg View's Noah Smith points out, only about 5 percent of workers are moonlighting. This rate has actually dropped slightly over the last three decades.
Ocasio-Cortez then argued that people working a ton of overtime was skewing the unemployment numbers. The only problem? Overtime hours have nothing to do with unemployment numbers.
Finally, the foolish Democratic-socialist tries to argue that capitalism has made things worse in the world. The only problem here? By EVERY SINGLE POSSIBLE MEASURE, the world has become a wealthier, healthier, safer, and better place over the last century due almost exclusively to… CAPITALISM. (Capitalism is even stopping war!)
Again from Reason:
Ocasio-Cortez blames profit-seeking "no-holds-barred capitalism" for the conditions in which people struggle to feed their kids. Hunger and poverty are indeed problems faced by millions of Americans—14 percent of U.S. households experience food insecurity. Under capitalism, though, world poverty has declined precipitously. Over the past few decades, the economic growth that global trade has brought to developing economies has helped lift a billion people out of poverty. Between 2001 and 2011, some 700 million people exited from extreme poverty worldwide.

"Capitalism has not always existed in the world and it will not always exist in the world," said Ocasio-Cortez. But the scale of human suffering was inarguably greater in the era before capitalism, and would be again in any post-market era, if socialism's failure rate is any indication.
Even honest leftist thinkers, like the great Steven Pinker, can't understand how socialists ignore the fact that capitalism has been the greatest force for good the world has seen in the last half-century.
In fact, thanks in large part to capitalism the entire world is getting better every single day.
Article posted with permission from Constitution.com
Become an insider!
Sign up to get breaking alerts from Sons of Liberty Media.