If you have not been stocking up on storable foods and long lasting food preps or learning how to garden or raise chickens of some livestock, time is truly running out on us as our government illegally spend us into bankruptcy and organized man-made famines with the intent of starving many of us.  Don't let it happen to you!  The evidence is all around us that we are facing massive inflation, especially when it comes to food than at almost anytime in the past 60 years, and it's the poorest countries around the world that are being hit hardest.
First, Bloomberg reports on the inflation of food prices since the 1970s.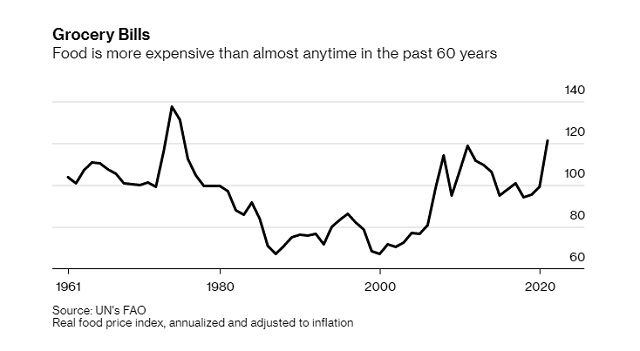 Whether for bread, rice or tortillas, governments across the world know that rising food costs can come with a political price. The dilemma is whether they can do enough to prevent having to pay it.
Global food prices were up 33% in August from a year earlier with vegetable oil, grains and meat on the rise, data from the United Nations Food and Agriculture Organization show. And it's not likely to get better as extreme weather, soaring freight and fertilizer costs, shipping bottlenecks and labor shortages compound the problem. Dwindling foreign currency reserves are also hampering the ability of some nations to import food.
[…] Food inflation spurred more than two dozen riots across Asia, the Middle East and Africa, contributing to the Arab Spring uprisings 10 years ago. Pockets of discontentment are growing again. Unrest in South Africa triggered by the arrest of former President Jacob Zuma in July turned to food as people looted grocery stores and restaurants. Shortages in Cuba led to the biggest protests in decades.
Adjusted for inflation and annualized, costs are already higher now than for almost anytime in the past six decades, according FAO data. Indeed, it's now harder to afford food than it was during the 2011 protests in the Middle East that led to the overthrow of leaders in Tunisia, Libya and Egypt, said Alastair Smith, senior teaching fellow in global sustainable development at Warwick University in the U.K.
"Food is more expensive today than it has been for the vast majority of modern recorded history," he said.
Learning to grow one's own food is more important now as it ever was.  You can do it, even if you live in the city.  Just take a look at this family in downtown Los Angeles that grew 6,000 pounds of food a year on a 1/10 acre of land.
Meanwhile, Natural News reports on the hardest hit countries by the food price inflation are some of the poorest on the earth.
Global food prices have been climbing for over a year by now. While Americans have definitely felt a lot of pressure from the inflation, the worst effects have been felt by people in poorer and developing countries.
According to the latest data from the United Nations' Food and Agriculture Organization, food prices have risen by 40 percent over the past 15 months. This is the single largest increase in food prices since the surge caused by the unrest in North Africa and the Middle East during the Arab Spring of 2010 to 2011.
Economists in the United States have noted that the rising commodity prices would have the biggest effect on the purchasing power of American households. But as families in the U.S. are feeling the pressure, the impact, they warned, was "far larger" in emerging markets and could last well into the next year.
These same experts have warned that the market forces causing food prices to soar are also responsible for at least some of the uncontrollable inflation. These forces include the bottlenecks and the breakdowns in the global supply chains, soaring costs of transportation and the labor shortages in the U.S. and other parts of the world. Experts have warned that a lot of these forces are ultimately caused by the economically devastating Wuhan coronavirus (COVID-19) lockdowns.
But while the inflation in the U.S. and much of the developed world may be beginning to moderate, analysts at some of the largest banks and financial corporations in the world warn that the rampant inflation in emerging markets may continue to rise, driven by demand.
Analysts at Deutsche Bank, a multinational German investment bank and financial services company, warned that the rampant inflation in emerging markets may continue to rise, driven by demand. If this occurs, central banks in the U.S. and in much of the developed world "will have an increasingly difficult monetary policy trade-off with slowing growth."
This situation can already be seen in Russia. The country's central bank raised its policy interest rate for the fifth time this year on Friday, Sept. 10. Russia did this to get ahead of rising commodity prices.
Experts from JPMorgan warned that similar situations are likely to occur in places like Peru, Mexico, Colombia and Brazil. 
Being prepared takes just little steps if you don't have big funds.  I know, I have a big family and we are very tight every month, but we take a little each week and put it back to prepare.  Chickens are also a long term investment that will render food each day, and gardening is  more consistent means to provide for your family in these uncertain times.  Remember, if you need storable foods, you can still get those delivered to your door now, but who knows how long that is going to last because when all of this tyranny hits the supply line, all bets are off!
Become an insider!
Sign up to get breaking alerts from Sons of Liberty Media.