In 2020, anyone who shared the New York Post article about Hunter Biden's laptop scandal — which contained details of of Hunter attempting to use his father's influence to cash in on a deal with China — was unceremoniously banned, blocked, or removed. The entire big tech oligarchy united together to censor the report, essentially protecting Joe Biden from scandal and aiding him in the election. Though many knew the emails and the laptop — which also contained underage photographs of young girls and Hunter smoking crack — were authentic at the time, big tech and the "fact checking" dynasty made it their mission to suppress, ridicule, and censor the story into oblivion. Now, the establishment's praetorian guard has egg on their face once again as their "fact checks" have been proven wrong.
One last reminder: @TheIntercept — founded in 2014, before the current editors arrived, to be *adversarial* to CIA/security state — used an ex-NYT reporter to mindlessly endorse the CIA lie that the Hunter docs were "Russian disinformation" out of desperation to help Biden win. pic.twitter.com/sDJuuOiMjW

— Glenn Greenwald (@ggreenwald) September 21, 2021
At the time, big tech openly called for the censorship of the Post's article, despite it being entirely credible.
Now, however, they can no longer do so as the emails from Hunter Biden's laptop have been confirmed as legitimate, according to Politico, citing claims in a new book by Ben Schreckinger.
Ben Schreckinger's "The Bidens: Inside the First Family's Fifty-Year Rise to Power," out today, finds evidence that some of the purported HUNTER BIDEN laptop material is genuine, including two emails at the center of last October's controversy.

A person who had independent access to Hunter Biden's emails confirmed he did receive a 2015 email from a Ukrainian businessman thanking him for the chance to meet Joe Biden. The same goes for a 2017 email in which a proposed equity breakdown of a venture with Chinese energy executives includes the line, "10 held by H for the big guy?" (This person recalled seeing both emails, but was not in a position to compare the leaked emails word-for-word to the originals.)

MORE: Emails released by a Swedish government agency also match emails in the leaked cache, and two people who corresponded with Hunter Biden confirmed emails from the cache were genuine. –Politico
Politico seems to be the only outlet willing to address this issue but still claimed that "While the leak contains genuine files, it remains possible that fake material has been slipped in." However, the rest of the media and political machine refuses to apologize much less issue a retraction.
At the time, the Post was banned from Twitter for weeks and politicians came out of the woodwork to decry the emails as "Russian propaganda." In fact, a tweet from Sen. Chris Murphy (D-CT) remains up, in which he calls it exactly that.
On October 17, Murphy's tweet received nearly 70,000 'likes' for calling it "likely Russian propaganda" – claiming he'd "seen the intel."
Joe Biden – and all of us – SHOULD be furious that media outlets are spreading what is very likely Russian propaganda.

1/ I've seen the intel. The mainstreaming of misinformation is Russia's 2020 goal. Here's what we know, and why we can't take it lying down.

— Chris Murphy (@ChrisMurphyCT) October 17, 2020
The ostensibly "objective" NPR, put out a virtue signaling tweet — which also remains up — claiming that they "don't want to waste our time" on stories that are "just pure distractions."
Why haven't you seen any stories from NPR about the NY Post's Hunter Biden story? Read more in this week's newsletter➡️ https://t.co/CJesPgmGvo pic.twitter.com/jAi7PnpbZf

— NPR Public Editor (@NPRpubliceditor) October 22, 2020
Facebook's director of communications, Andy Stone, even tweeted out that they were going to censor the article.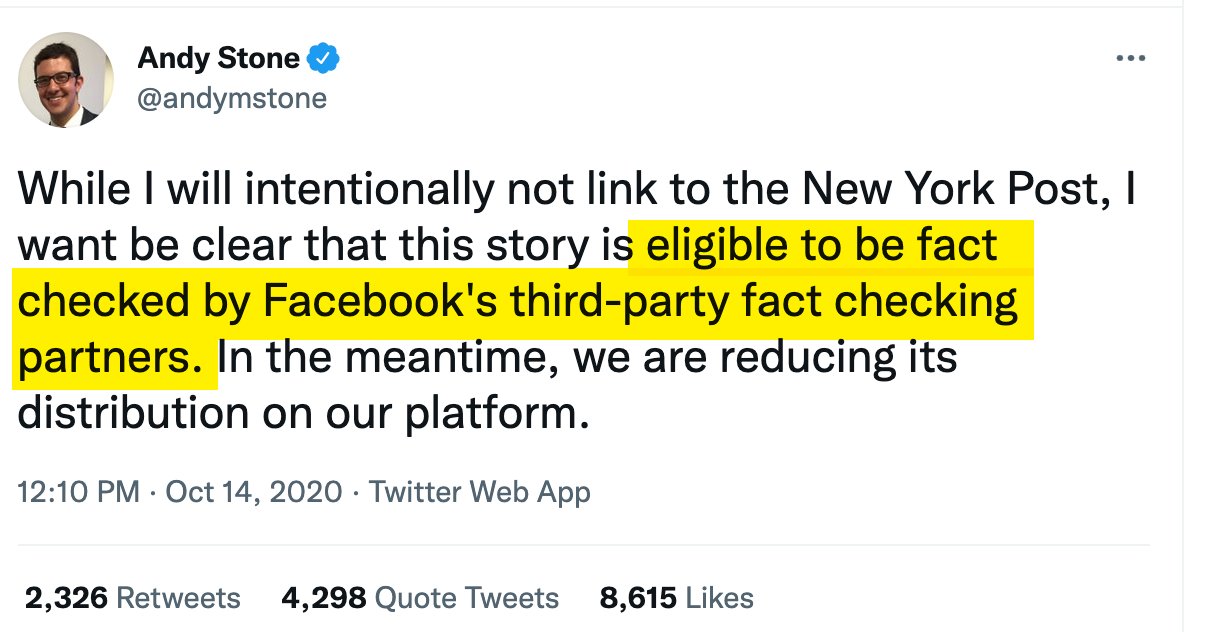 But Facebook's "fact check" never came because the documents were authentic. Now, nearly a year later, only after the damage has been done and big tech steered the election into Joe Biden's favor by suppressing facts, is the establishment admitting it was true.
Not surprisingly, Facebook refuses to come clean on their censorship.
Amazingly, Facebook and @andymstone — having interfered in our elections by suppressing a story that the CIA, the Intercept and other media outlets lied about by claiming it was Russia disinformation — now refuses to answer questions about the outcome of that "fact-check." 👇 pic.twitter.com/9Zl6s1qJiv

— Glenn Greenwald (@ggreenwald) September 21, 2021
This shows us the problem with the so-called fact checkers and their tendency to suppress truth because it may be damaging to a political party. Over the past several years, their partisan tendencies have become so obvious that they appear to many as toddlers on the playground holding their fingers in their ears and humming loudly to avoid hearing anything they are being told.
Make no mistake, there are definitely some asinine and utterly stupid conspiracy theories out there on just about everything, including COVID-19 and Hunter Biden. But does society need handlers to hide these things from them by censoring those who engage with it?
Stupid ideas didn't used to go extremely viral. Even in the furthest corners of the conspiracy theory realm, verifiably false facts were easily proven wrong and dismissed swiftly. But that no longer happens now thanks to fact checkers.
Because fact checkers are heavily based along party lines, even when they are perfectly truthful, their partisan nature tends to make their political rivals dismiss actual facts.
What's more, because fact checkers are heavily based along party lines, even when they are perfectly truthful, their partisan nature tends to make their political rivals dismiss actual facts.
Fact checking sites are certainly welcomed but when they have authority to silence those who may disagree with the majority consensus, we move from providing a benefit to silencing crucial and much needed skepticism and in this case, damning political information.
Supporting this censorship is wrong. Free speech does not come with terms and conditions and those who claim it does will eventually be silenced by the very monster they helped to create. They will also be complicit in fomenting ignorant extremism that will usher in new levels of domestic terrorism and a police state like we've never seen.
Article posted with permission from Matt Agorist
Become an insider!
Sign up to get breaking alerts from Sons of Liberty Media.