Well, here it is, the very definition of Fascism:  The privately owned Federal Reserve working hand in glove with the government to rob the country of its wealth, and using the scamdemic to do it.  They are about to spend $9 billion in phony Monopoly money that they print out of thin air to buy up actual Treasurys and MBS in the next two weeks.
Zero Hedge reports:
Now that the Fed's release of POMO is more of a periodic affair than every Friday, moments ago the NY Fed published its latest POMO schedule for both Treasurys and MBS for the next two weeks, covering the period July 14 – July 27.
In line with the recent Fed disclosure that the central bank will purchase about $80 billion in Treasurys monthly, the latest schedule shows an average daily purchase of about $4.5 billion, or $40.2 billion spread over 9 days; for MBS the average daily is nearly identical, at $4.6 billion daily, or $46BN spread over 10 days.
Here is the latest summary of Treasury POMOS. Of note: the biggest POMOs will take place on July 14 and July 24, when the Fed will monetize $12.825BN and $8.825BN worth of US debt.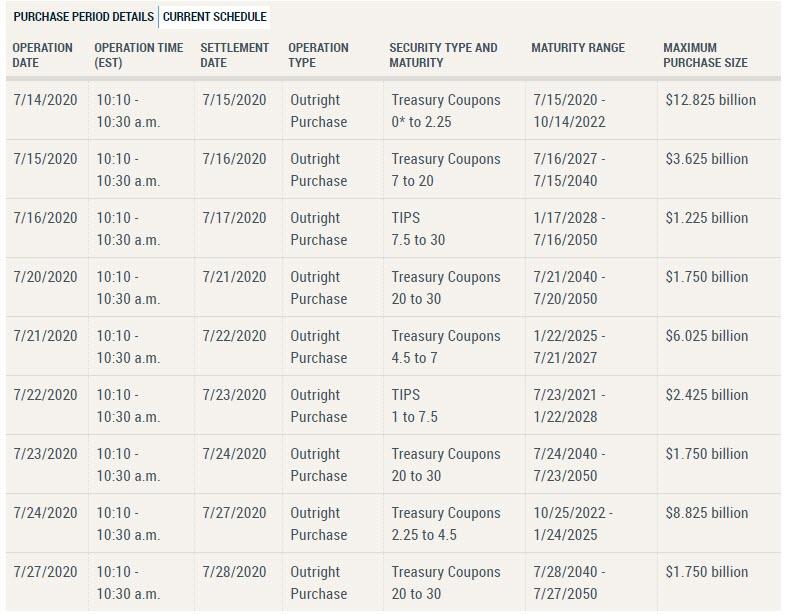 The Agency MBS can be found at the following link.
The visual summary of all TSY/MBS POMO since the start of QE Unlimited on March 13 is shown below. Since then, a total of $2.82 trillion in TSY and MBS have been purchased by the Fed in the open market.
Somehow, I'm thinking the American people should have had enough of this years ago.  Perhaps as the prices of food start to increase, along with everything else, it might get their attention a little more to demand the end of the Fed and the prosecution of those involved in this scheme to swindle the American people out of sound money for their own gains.
Become an insider!
Sign up to get breaking alerts from Sons of Liberty Media.