Update (0850ET): ABC News is reporting that the NYPD has finally apprehended the main suspect in yesterday's brutal shooting at a subway station in the Brooklyn neighborhood of Sunset Park.
Editor's Note:  Video captured by a passenger exiting the car next to where the event allegedly took place captured this video which appears to indicate a staging of fake blood and photo ops.
New York, NY — As passengers on a Brooklyn train took their morning commute on Tuesday, the situation quickly devolved into a nightmare. As commuters were riding the subway near 36th street around 8:30 a.m., a gunman wearing a gas mask deployed two smoke bombs before pulling out a 9mm pistol and firing 33 times.
According to NYPD Cheif of Detectives James W. Essig, those 33 bullets hit 10 people — seven men and three women. An additional 13 people were injured via smoke inhalation, falling down or panic attacks, Essig said.
The NYC Unified Victim Identification System (UVIS) has been activated in response to the NYPD activity near 36th St & 4th Ave in Brooklyn.

If you are concerned about someone who may have been affected & can't contact them, please call 311. From outside NYC, call 212-639-9675. pic.twitter.com/Fr8Rv3NjJY

— NYPD NEWS (@NYPDnews) April 12, 2022
"We saw a quiet Tuesday morning turn an N train into a war zone as a smoke bomb was detonated, and multiple shots rang out," New York City Mayor Eric Adams said.
After the shooting,  investigators found a Glock 9 mm handgun, three extended magazines, two detonated smoke grenades, two non-detonated smoke grenades, a hatchet and a U-Haul key. Police also said they found a credit card at the scene.
After that announcement, CNN irresponsibly reported that the credit card belonged to the suspect without any explanation of how they reached that conclusion.
A credit card used to rent a U-Haul cargo van helped New York investigators quickly identify the suspect who allegedly deployed a gas canister and then opened fire on a Brooklyn subway sending nearly 30 people to city hospitals, two law enforcement sources told CNN Tuesday.

The shooter, who dropped the credit card as he fled the scene was still on the loose Tuesday night, was described by authorities as a 5-foot-5-inch Black man with a heavy build who was last seen wearing a green construction vest and a gray hooded sweatshirt.
The above statement has since been removed from the CNN website, but still exists in this screen shot we captured on Tuesday.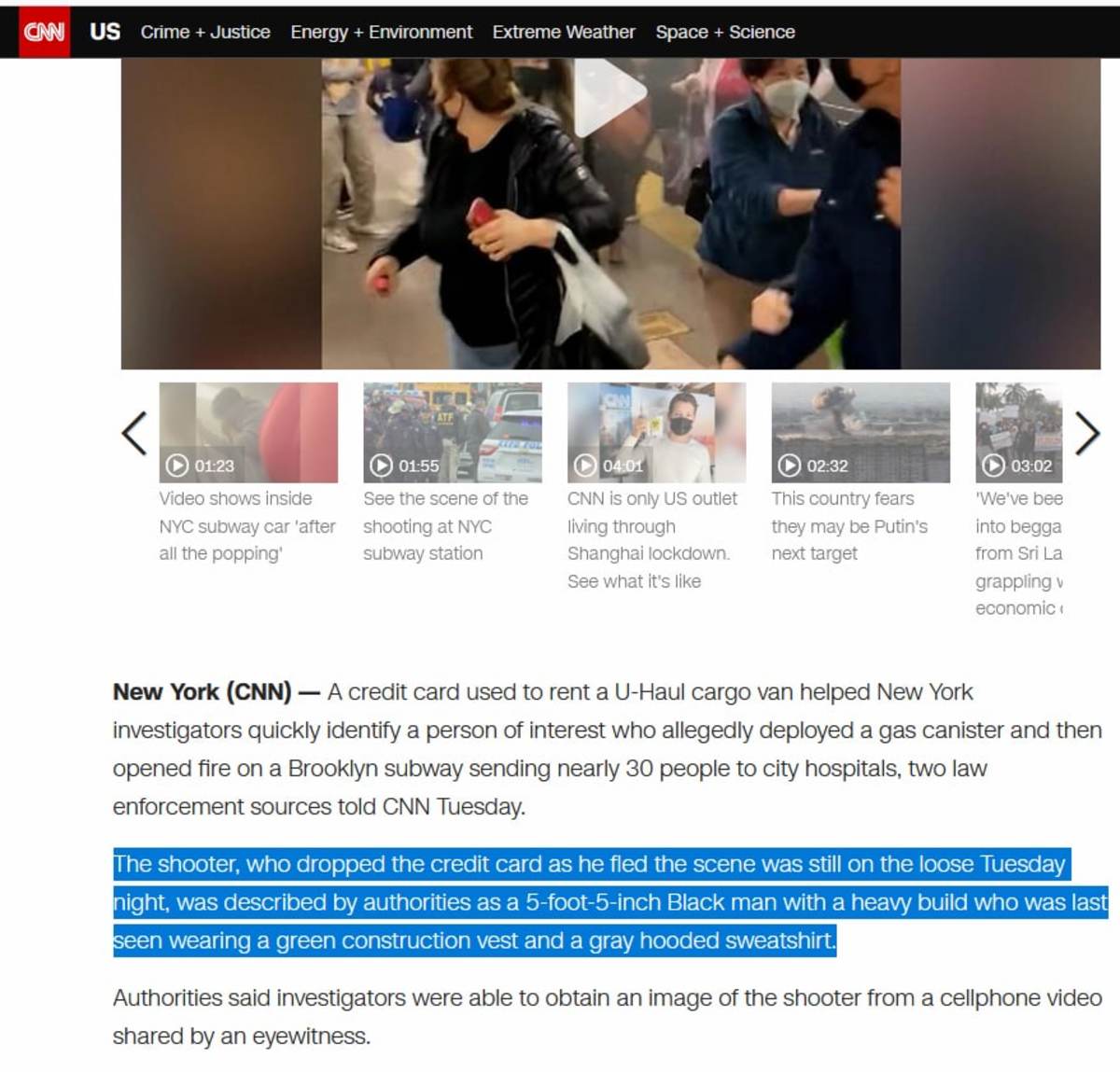 According to police, however, that person is Frank James, 62, and is only a "person of interest" in the shooting. James is believed to be the renter of the U-Haul vehicle found in Brooklyn and has addresses in both Wisconsin and Philadelphia, Essig said.
"Mr. James is just a person of interest we know right now who rented that U-Haul van in Philadelphia," Essig said. "The key to that U-Haul van was found in the subway in our shooter's possessions. We don't know right now if Mr. James has any connection to the subway. That's still under investigation."
New York City agencies are offering a joint $50,000 reward for any information leading to the arrest of the suspect involved in Tuesday's shooting, according to a statement from the Metropolitan Transportation Authority (MTA).
Adding to the suspicious nature of the shooting is the fact that the surveillance cameras in the area of the shooting had reportedly malfunctioned.
A preliminary review indicates there was some sort of malfunction with the camera system at the station, Adams told WCBS Radio 880 AM. There are almost 10,000 cameras in the MTA system including almost 600 cameras on the Brooklyn section of where the attack took place, MTA Chair and CEO Janno Lieber told CNN's Jake Tapper.

"We're going to work with the NYPD to capture all that video to find out where this criminal may have come in or out of the system," Lieber said. "And we're also just reviewing with everybody who is involved, all of the information."
For now, the shooter remains at large, as well as the police department's person of interest. And, there is no doubt that hundreds of malfunctioning cameras helped that happen.
Article posted with permission from Matt Agorist
Become an insider!
Sign up to get breaking alerts from Sons of Liberty Media.