Remember when fascist and coward YouTube CEO Susan Wojcicki unlawfully started censoring anyone that disagreed with the official CONvid-1984 narrative?  Remember, when she authorized the unlawful termination of accounts even when reputable doctors spoke out on the dangers of the COVID shots, which have proven to be true and millions of people have been injured or died from them within the past 11 months?  Well, now she's at it again.  Wojcicki is going to remove "dislikes" completely and the effort is clear.  It's to prop up the lying, bought and paid for Mockingbird, corporate-owned media and the criminals in the White House and the current administration.
Chris Menahan reports:
YouTube under CEO Susan Wojcicki announced Wednesday that they're going to remove "dislikes" entirely from public view.
They claimed in a statement that their intention is to "better protect our creators from harassment, and reduce dislike attacks."
To reduce targeted dislike attacks & their impact on creators (esp on smaller creators), you'll no longer see a public dislike *count* on YouTube starting today (the dislike button is staying).

This comes after lots of research, testing & consideration → https://t.co/mJWDJSSRoG

— TeamYouTube (@TeamYouTube) November 10, 2021
"Creators" in this case means the failing media and the White House, all of whom are downvoted to hell on all their videos.
YouTube experimented with mass removing downvotes from the White House and media earlier this year but the general contempt for both is so high their tinkering wasn't enough.
I just searched "covid" and clicked the top three videos — all of which are propped up algorithmically by YouTube — and these were the results: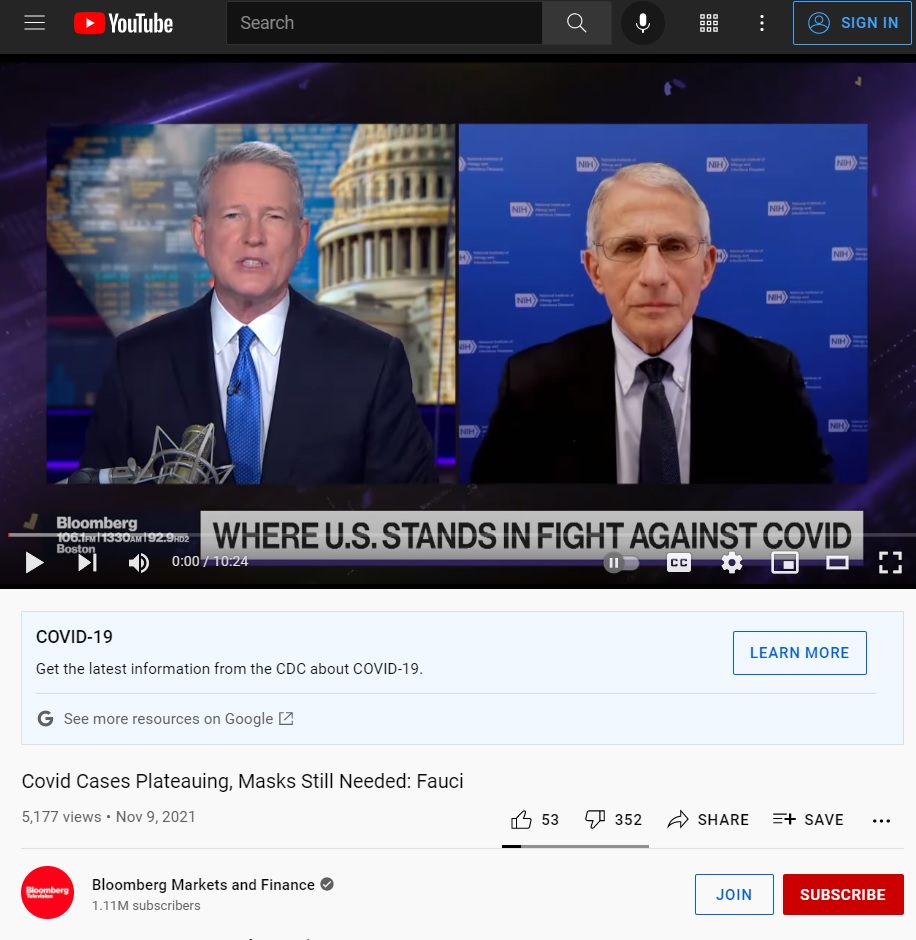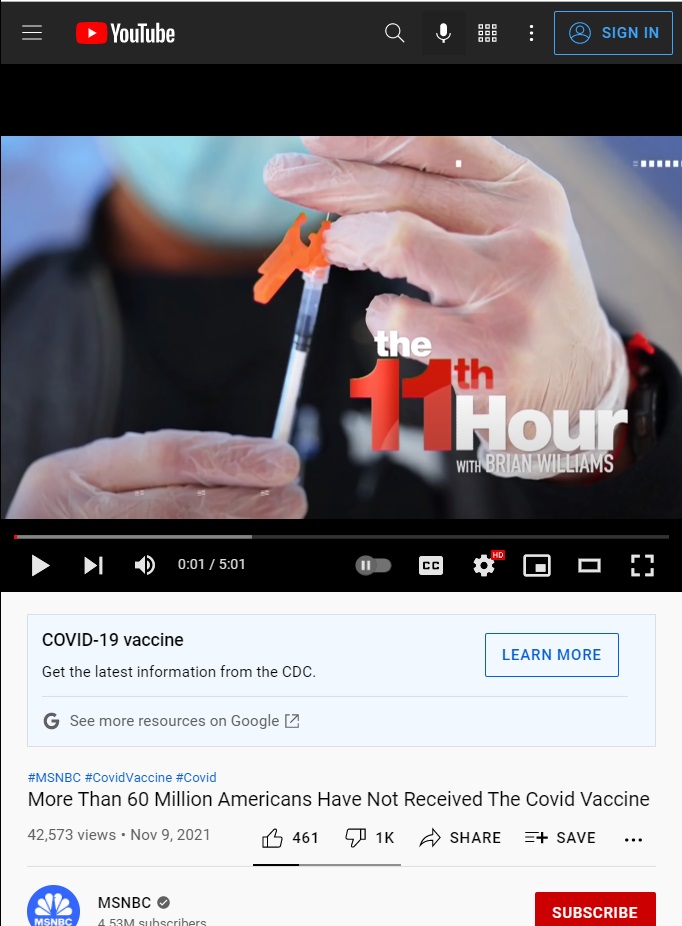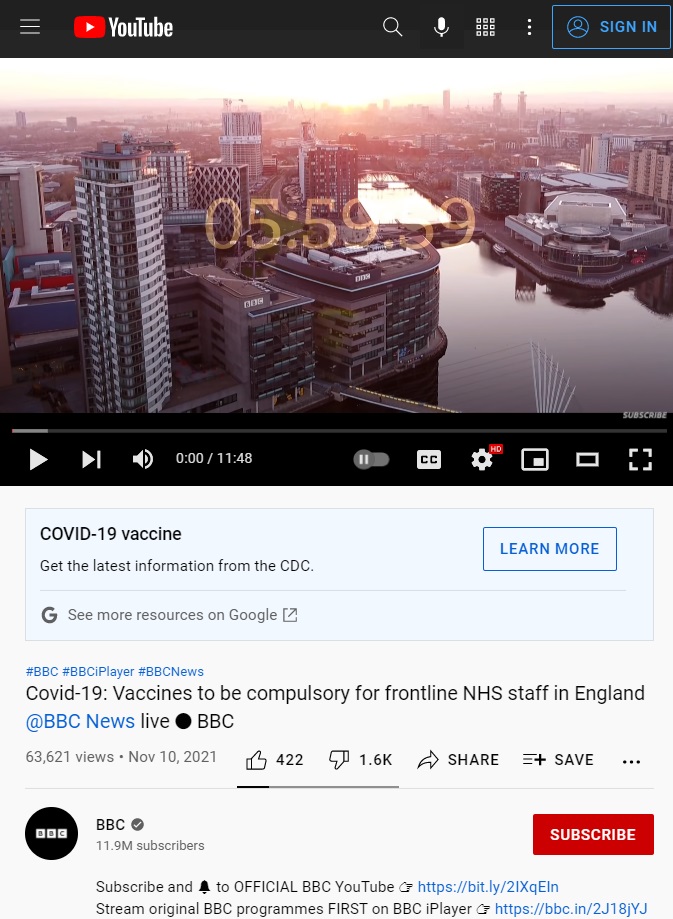 YouTube has been placing "covid" related videos from the controlled media on the front page shilling the vax and so on and every one gets downvoted to hell, with nearly all the comments being negative.
Here's the latest video from the White House: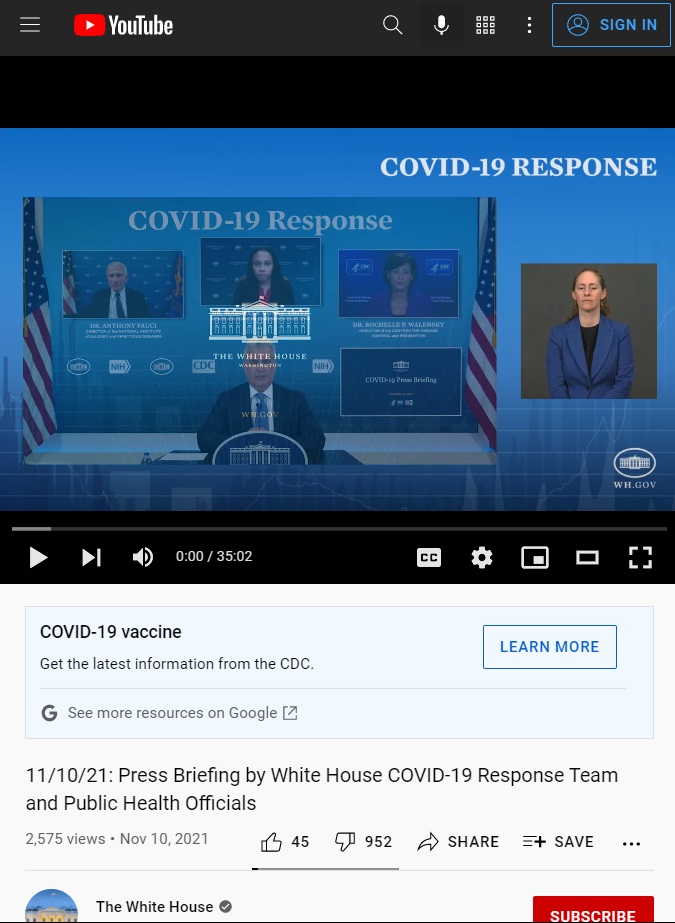 This is the norm and I'm sure they find it frustrating.
YouTube concocted some comically stupid excuse that they were making this change to help "small creators" after having screwed over small creators in every way possible over the past 4 years.
YouTube's video justifying the new policy was also strongly downvoted with all the top voted comments saying they're against the change.
(Note, Susan Wojcicki was too much of a coward to put her face on this.)

"You've removed the ability for people to be able to easily spot videos that are related to scams, false/misleading information etc by hiding important information from the viewer, all to protect a handful of people that got upset that a video got dislike bombed even though it doesn't affect the video negatively in any way?" one YouTuber said, echoing a common refrain.
What he failed to understand is that they're removing the downvotes precisely so that the media, the White House and the Big Pharma companies they've partnered with like Pfizer can push scams and false/misleading information and be shielded from all pushback and criticism.
Between YouTube, Facebook, Twitter and Google, they define the new Ministry of Truth in Orwell's 1984.  They memory hole the truth, redefine it and the regurgitate what their masters tell them, and anyone who dares to oppose that lying narrative may not only face censorship and even termination of an account, but won't even have a voice as to whether something is liked and trusted or disliked and believed to be a lie.
YouTube is digging their own grave on this one just like they did on the COVID nonsense.  This is why Rumble is gaining ground by leaps and bounds!
Become an insider!
Sign up to get breaking alerts from Sons of Liberty Media.